Providing high quality, youth centred youth work is vitally important in ensuring all young people feel secure and are able to participate and have their voices heard. NYA Quality Mark, Hear by Right and the National Curriculum for Youth Work all aim to equip youth organisations with the knowledge and tools to ensure the highest possible standard of youth work is being delivered.
Quality Mark
NYA have developed a Quality Mark which enables organisations, however large or small, to reflect upon and review the services that they offer young people, enabling them to explore ways to develop and provide youth work to the best possible standard.
Hear by Right
Hear by Right is an organisational development tool built on a framework of seven standards with 20 indicators. It describes best practice, supporting organisations to plan, develop and evaluate their participation practices and provision, keeping young people at the heart of decision making whilst increasing their voice, influence and place within society.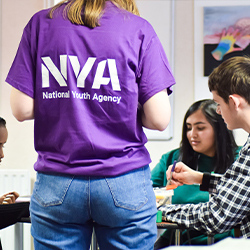 National Curriculum for Youth Work
In 2020 NYA launched a National Curriculum for Youth Work to enable a greater understanding of youth work practice, provide an educational framework and act as a reference tool to be used by decision makers, policy makers, commissioners, youth workers and young people.