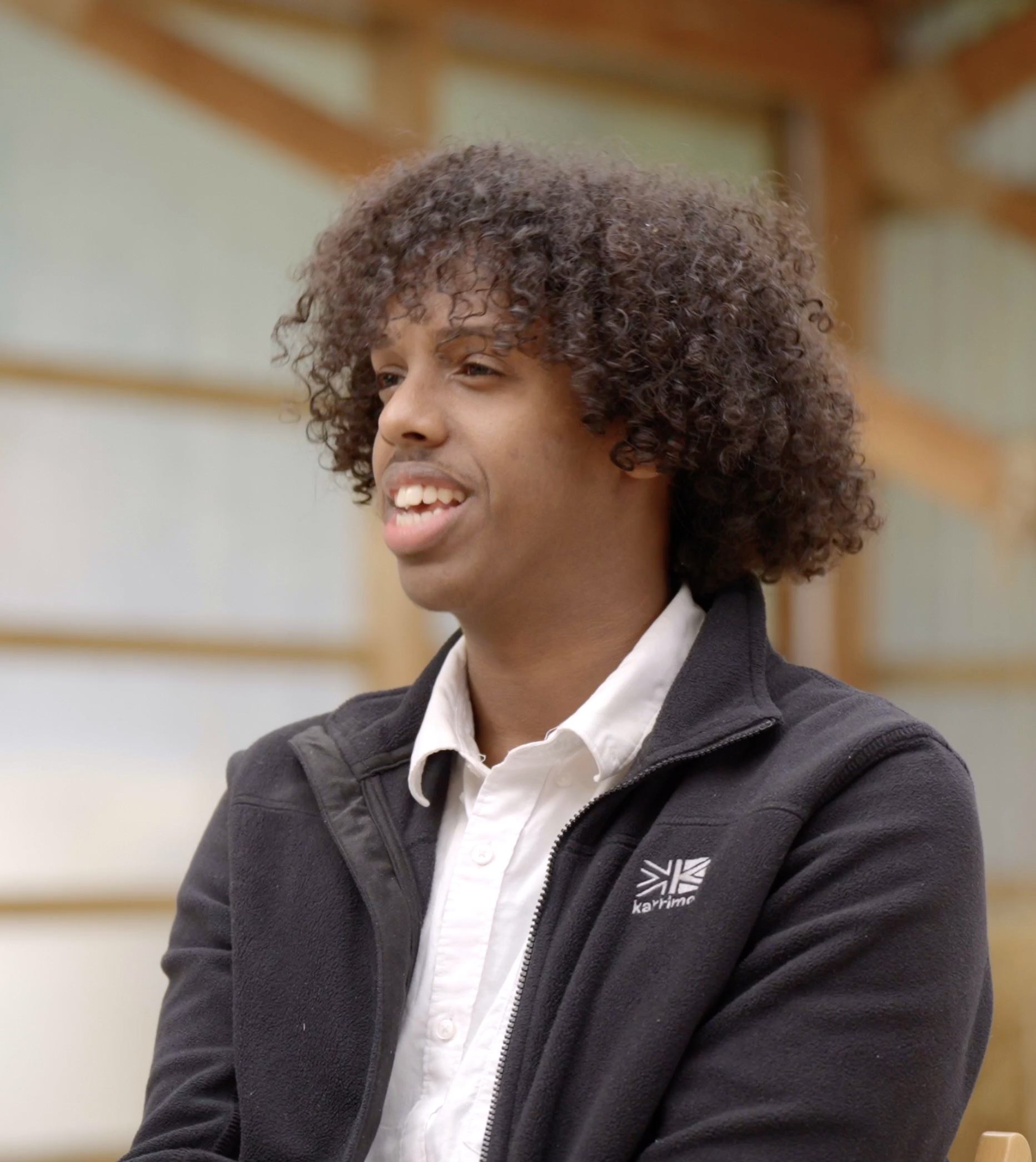 Changing perception of school through Youth Work – Ridwaan's story
At the age of 12, Ridwaan was struggling to stay out of trouble at school. At age 13 he was learning to adapt to the new social cues of post primary school life. At age 14 he was getting the hang of the formal education environment and preparing to choose his GCSE subjects.
At age 15, the Covid pandemic struck, school closed and Ridwaan began to lose his way.
Now 17, Ridwaan is feeling more able to make positive choices thanks to the support he's received from the Oasis Hub Youth.
Ridwaan was introduced to the Hub by friends who'd already been supported by youth workers and who were feeling happier about being back at school, as a result. It seemed like a better place to hang out than with people who might lead him into trouble.
"From the first day I came along I loved it. We play games, cook food together. It's a space to talk. It feels different to schools. We're learning more about ourselves."
Coping strategies
Ridwaan soon benefited from the non-judgemental support of Oasis Waterloo's Head of Youth Services Stu provided, giving him the time and tools to develop coping strategies to deal with all the challenges in his life.
"The moment I met Stu, my whole perception of school changed. I could really confide in him. He's someone you can confide in. He will give you the best possible advice but also give you the room to determine your decisions."
Participating in peer learning sessions has been particularly important to Ridwaan.
"One time when I came to Hub Youth, we were sitting around in a group talking about mental health, and like, it really made me understand because there were other people I knew all talking about the same things that I was feeling so I could really understand what I was going through and how to express what I was going through.
"We talked about coping mechanisms, how to cope with our feelings and what was happening in the world. I really took those skills on and developed my coping mechanisms," he said.

Unlike school, the educational approach of youth work is led by the young person, working together to set their own goals and defining the steps needed to get there.
"It's difficult, very hard" "The work can be hard to grasp and a lot of it has been independent work," Ridwaan explained.
"Coming to Hub Youth has had a real impact on my development, I really think it's improved me as a person," he added.
A safe haven
Located in the middle of Waterloo, the Oasis Hub is next door to the Oasis Academy and surrounded by the hustle and bustle of the capital. It provides a safe space for young people to experience positive activities, make new friends and have access to a trusted adult. It also has its own nearby urban farm, providing opportunities to learn about animal management, as well as growing and preparing food.
"The Oasis Hub is like a safe haven that no one really knows about unless you're involved in it. We sometimes hang out at the Oasis Waterloo Farm. There are goats, sheep, chickens, rabbits, hamsters, pigs. We feed them and look after them. I was scared of the goats at first, I didn't know anything about them but I've learnt all about them and now I can feed them by hand and I'm not scared of them anymore."

Now that he's better equipped to handle his feelings and he has successfully navigated a very difficult period in his life, Ridwaan is hoping to ace his A levels and go on and study Computer Science at university.

When asked what advice he would give to any young people just leaving primary school and beginning their formal education journey, Ridwaan replies "Find your Stu. Find a worker who will really listen to you and allow you to develop yourself and understand yourself."
From storming out of classrooms to ambitions of a career in health and social care – Idrianna's Story
Idrianna felt like she wasn't heard. Struggling to articulate herself and feeling defensive, she often ended up in arguments with teachers and friends.
Stemming from a difficult transition from primary to secondary school, Idrianna felt overwhelmed by the school environment, which led to issues in lessons:
"At times, I just walked out of classrooms. I was angry and stormed out. I did struggle with teachers, and not just teachers, but students."
Year Ten was particularly challenging for Idrianna:
"It was just constant – there was a problem every single day."
Peer group issues
Exhausted from dealing with issues in her peer group, Idrianna's behaviour declined, and she was frequently getting corrections and detentions.
There were times that she didn't want to go to school, despite knowing it was a crucial time for her studies:
"Some days I just didn't want to go to school. It was kind of tough because I can't miss out on key content, and I know it's really important that I go to school. But still, I just felt really like I didn't want to be there – too many problems with friendships. I just wanted to stay at home and be by myself."
Feeling listened to
It was at this point that she was referred to the Oasis Hub Youth for support.
Head of Youth Services at Oasis Waterloo Stu Thomson recalled greeting a stressed Idrianna at the school gates each morning and supporting her to 'check in' with herself to set herself up for a more successful day:  
"Part of my role with Idrianna was at the school gates in the morning – you could see her bustling down the road, probably a bit stressed about something in her life. I'd just give her a moment to get things off her chest. Then she might go off to school in a slightly better position, because someone has taken the time to listen to her."
Stu emphasised the importance of this motivational morning check in with students:
"Our role is to go, 'we're here for you, we're nurturing your growth. Go to school now and have a good day.'"
Idrianna explained that feeling listened to wasn't something she had experienced often, but that changed when the youth hub introduced her to her mentor, Alison:
"She actually listened to what I had to say, and about my feelings and how I felt. I felt like a weight lifted off my shoulders."
Just half an hour of meaningful conversation with a trusted adult each week was all it took to get Idrianna back on track. Her mentor gave her the space to voice her feelings and helped her to learn how to articulate herself more effectively to improve relationships with those around her.
Describing her chats with Alison as a "nice, calm conversation" she feels that she learned a lot about herself and began to reflect on the way she interacted with others and how to address mistakes she made.
Idrianna feels that this intervention has had a lasting impact on her:
"I know that they really helped me out to be a better person today."
A safe space
Idrianna expressed the importance of having a safe space for young people, where they are not at risk of harm:
"I think they [youth workers] have a really big impact. There's a thing of young kids, from ages 11 to almost 18, just being on the streets and just doing whatever. I think when we're in a space where we're around people that are older, and they can take care of us, it's a way safer space – it's not a space where we can get arrested or get hurt. It's a space where we have workers like Stu that can really help us."
Now that Idrianna is more able to regulate her behaviour, she is excelling academically and has ambitions to study Health and Social Care after she completes her GCSEs.
Idrianna's story is testament to the notion that youth work partnerships with schools can dramatically improve student's attendance and focus on learning, enabling them to fulfil both their academic and social potential.
As we wrap up our conversation with Idrianna, how is she feeling now?
"I'm in a really good place – I feel like I've matured a lot. I'm in a good mental place. I'm quite happy."