Building on our successful partnership with NatWest to develop the NatWest Thrive programme the bank is now providing the funds to help us to grow the skills of those working in the sector.
NatWest is dedicating around £3 million through its apprenticeship Levy scheme, until 2028, to help fund those working in the sector to qualify at Level 3, which provides the skills and knowledge to become a qualified Youth Support Worker and Level 6, equivalent to a degree, which will enable progression into a leadership role.
The Levy Transfer Scheme is an opportunity for NatWest to create a step-change in the way youth workers access training, by supporting those already working in the sector to gain a Level 3 or Level 6, equivalent to a degree, which will enable them to progress into a leadership role.
The partnership between the NYA and NatWest has been genuinely transformational for The Boathouse Youth. Having Level 3 and now Level 6 Apprentices – fully funded – gives our staff a clear training/progression route to professional qualification. This benefits the staff, but it also benefits the organisation as individuals share their training amongst the wider team. And more importantly the clear impact on their practice – informed by theoretical knowledge – benefits the young people of Blackpool in so many ways, enabling them to lead their best lives
-Pete Crossley, Deputy Chief Executive Officer, Boathouse
NYA's partnership with NatWest is enabling us to work towards our goal to build the youth work sector, and specifically, attract 10,000 youth workers, 20,000 youth support workers and 40,000 skilled volunteers into the sector by 2030. 
The scheme means that youth work organisations can up-skill existing staff or volunteers without any costs, which could help improve their provision and benefit more young people in their area.
Level 3 Diploma in Youth Work
The Level 3 Diploma in Youth Work (18 months) is aimed at learners who are already working or volunteering in a youth work setting and extends their skills and knowledge in areas such as intervention strategies, dealing with challenging behaviour and undertaking specific optional modules to extend their knowledge in areas such as supporting young people who are in care or working with LGBQT+ young people.
Level 6 Youth Worker
The Level 6 Youth Worker (36 months) is being delivered through universities and apprentices will achieve a recognised degree in Youth Work. The qualification will enable the learner to establish, manage and develop youth work provision; work other agencies across the community and develop rights-based youth work.
This is a great opportunity for the sector to increase the number of qualified youth workers and meet the needs of young people.
We are now looking to fill the remaining apprenticeships before the end of this year and are particularly looking for applicants for a December start date. We have limited Levy funding left for this year so please get in contact asap.
For more information or to express your interest, please email the NatWest Thrive team via: natwestthrive@nya.org.uk
.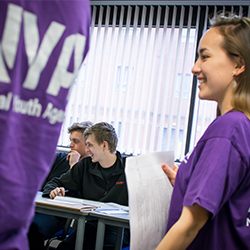 Natwest Thrive with Marcus Rashford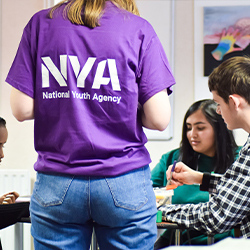 Safeguarding Hub
A comprehensive Safeguarding and Risk Management framework for the Youth Sector.
Training and Events
Our latest webinars, tea-breaks and online opportunities
amplifi
Exciting work experience, knowledge and skill development, and youth work support.