Nicola Kelly is an NYA Youth Work Specialist delivering on the NYA Academy.
Nicola has worked with young people for over 25 years and facilitates unique Well Being events using Creativity, Mindfulness, Change Work and Sound Therapy.
For this year's Mental Health Awareness Week, join us daily for Nicola's top tips for youth workers dealing with anxiety.
Saturday
How are your virtual interactions on social media affecting your stress level?
As youth workers we know the importance that social media is for the young people we work with. It's a great tool for young people to connect and engage with our service.
Social media connects us with others in a variety of empowering ways. However, we also know the profound impact social media has on our lives.
Every time we receive a like on one of our posts it activates the brain's reward centre by releasing dopamine. Dopamine is the "feel-good chemical" linked to pleasure and happiness. However, getting too caught up in the 'Likes and Loves' can lead to addictive behaviour often associated with anxiety and/or depression. There are other unresourceful behaviours and feelings linked to social media, including feeling anger over someone's comments, FOMO (fear of missing out) … and the dreaded social comparisons where everyone else's lives look better.
If you are experiencing any of these it may be wise to undertake a digital detox. In a digital detox, all you need to do is refrain from using their smartphone or computer for a set period of time with the intention to interact and reconnect with the world.
Sunday
Is your cup half full?
Staying hydrated is essential – and often overlooked in our daily routine. Not only does staying hydrated help to regulate our body temperature but it also improves the quality of our sleep, mental cognition, and our mood. If you haven't had a refreshing sip of water today – go on, get a slurp in now!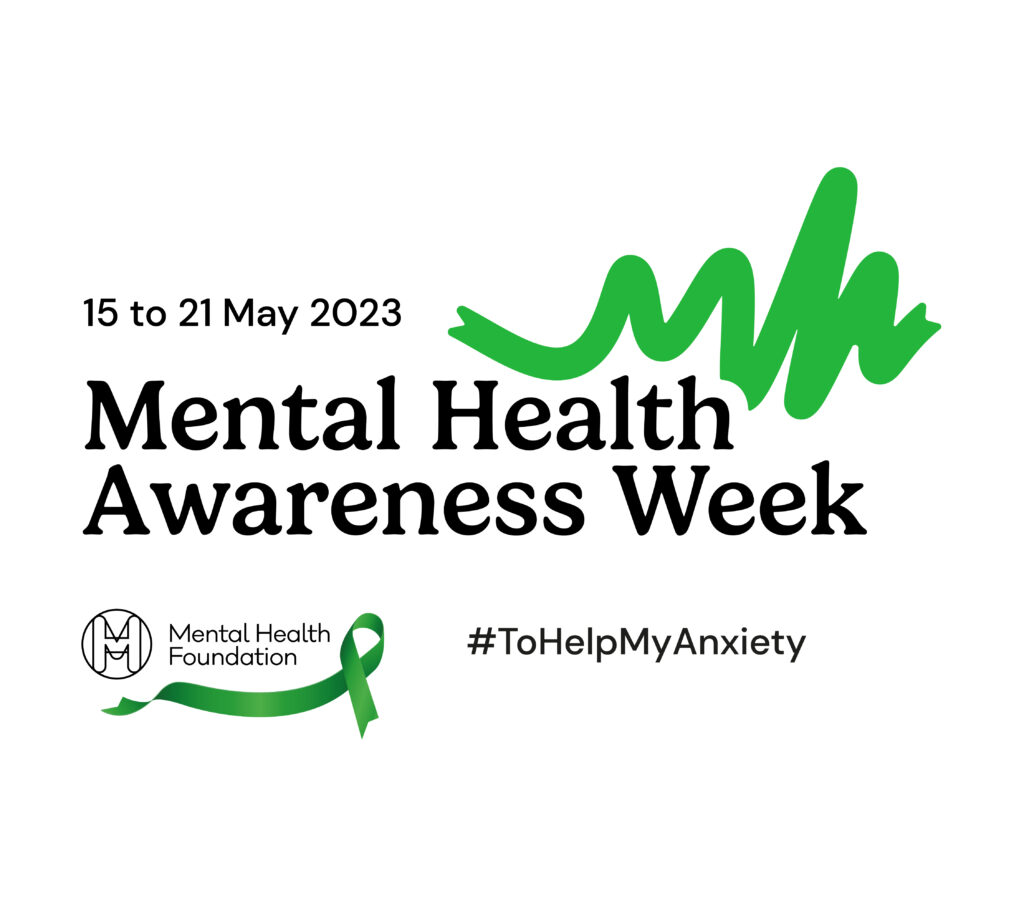 Check back later for the weekend's top tips.
Monday 15th May
Welcome to Mental Health Awareness Week
The official theme for this year's Mental Health Awareness Week, as set by the Mental Health Foundation, is 'anxiety'. It takes place from Monday 15 – Sunday 21 May 2023. The 'Just' Anxiety?' campaign aims to help people and organisations understand the difference between anxiety and anxiety disorders and to confidently seek and signpost each other to the right support.

Check back regularly for our top tips for youth workers. find out more about the campaign https://www.mentalhealth.org.uk/our-work/public-engagement/mental-health-awareness-week
If you need help with anxiety, and don't know where to turn; here are some helpful links.
Tuesday 16th May
The Consequence of Perfection
It's great to strive to be the best you can be.
Are you aware that perfectionism and anxiety are often associated? Have you ever set yourself some unrealistically high standards for yourself, unachievable goals in a set time frame? Maybe you have become overly concerned about making mistakes and started to notice that you are taking criticism personally… you may have even become self-critical as a result.
whatever we do, we can be tempted to believe that we aren't good enough.
As youth workers one of our main principles is the concept of informal learning, we know that a simple card game can support young people's cognitive flexibility and loosen up rigid thinking. Through informal learning we can build self-esteem and embed a philosophy of learning from mistakes rather than fixating on mistakes.
Even though we youth workers intrinsically know this, it can be difficult to acknowledge when we ourselves suffer from the concept of perfection. We might procrastinate, struggle to share our feelings, or even become obsessed with to-do lists.
Here are some simple tips.
Make small steps toward completing overwhelming tasks.
Ensure your goals are realistic and attainable.
At a given time, focus on just one activity or task.
Embrace the fact that everyone makes mistakes.
If you suspect that perfectionism is interfering with your wellbeing and causing anxiety, speak to your doctor or visit:
Wednesday 17th May
Do you experience work anxiety that makes you feel stressed and off balance?
Everyday millions of young people benefit from the wonderful world of youth work. As youth workers we strive to offer opportunities that support young people's personal, social, and educational development.
At times though we come across quite complex situations and/or safeguarding issues. Working with vulnerable young people and families can impact us directly and may cause us to have various stress reactions.
We may feel out of our depth, not sure what to do. It's important to recognise that the feelings of anxiety, worry, or fear that accompany these situations are normal and with clear processes and support these feelings will be more manageable.
Coping Strategies
Take control of what you can.
Read over and understand your safeguarding policy.
Remember you are not alone, speak with your DSL.
If you still need support don't be afraid to reach out for help.
Do you know about The Safeguarding and Risk Management Hub. (The Hub) it is a freely accessible online resource providing guidance, support, advice for organisations and individuals working with young people
Thursday 18th May
Rethinking your bedtime routine can help you sleep better.
Getting enough sleep is essential for our wellbeing. But when you're overwhelmed emotionally, it can be extremely difficult to fall asleep and stay asleep. Rethinking your bedtime routine may help. You can achieve a more restful night's sleep by following these healthy sleeping suggestions:
During the day
Make your bed.
Make sure you get enough natural light.
Make sure you're not hungry or full before bed.
Take it easy on the caffeine.
At night,
Try listening to some mindfulness such as the Head Space App.
Turn your phone off.
Oh, and a warm bath.
Before you go to sleep, grab a milky drink.
If you can't get to sleep at night because your mind is in overdrive, then take some time to write your thoughts down. That way it's out of your head on the paper. It will be easier to deal with the issue after a nice night's rest.
If you suspect that insomnia is interfering with your well-being, speak to your doctor.
Friday 19th May
Reconnect, get connected and stay on track
As youth workers we all know that our mental health and well-being can be improved by taking five simple evidence-based steps:
Connect.
Be active.
Take notice.
Keep learning.
Give.
I am sure you would agree that Youth Work provides the spaces needed to support young people's mental health and wellbeing and it is a highly rewarding profession. Youth workers can make a positive difference to the lives of the young people they engage with. However, the work takes place in a variety of places and settings which means it can be a busy and often stressful environment to work in. It's imperative for youth workers to connect with one another, take notice of trends happening on the ground and keep learning from each other. That's why we hold our regular Tea breaks and Supper clubs. They are dedicated spaces to explore complex themes in more context.
Why not connect with other youth workers at one of next events